The Star News reports that the Wilmington City Council is looking for "more community input" regarding the operation of the convention center through its Convention Center Advisory Committee (
http://www.starnewsonline.com/article/20101207/ARTICLES/101209707/1177
).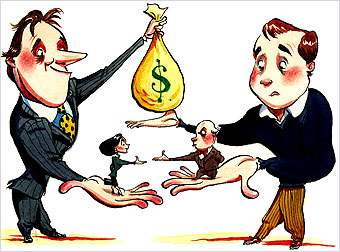 So what do they do? Stack the committee with the same key players that sit on boards like the Chamber of Commerce, Wilmington Downtown Inc., the Planning Commission, and many other influential and powerful public boards and commissions:
The council voted Tuesday to appoint six members to the Convention Center Advisory Committee, but they also directed the city attorney to review the provisions for the committee to see if the council could add more at-large members.

Mayor pro-tem Earl Sheridan suggested the city consider adding more members on the board to get a better representation of the city as a whole. The committee includes the executive director of the visitors bureau, a hotelier in the Wilmington Convention Center tax district, the CEO of the Greater Wilmington Chamber of Commerce, a representative from Wilmington Downtown Inc. and two at-large representatives.
Those key players are none other than Dale Smith, Louise McColl, Kim Hufham, Connie Majure-Rhett, Jackie Hodge, and John Hinnant. These folks all have been appointed to other boards by this same city council, and in some cases, multiple boards.
Louise McColl, who has gained notoriety as of late for her involvement in securing taxpayer money for the Gravely commissioning events such as "pub crawls" and plenty of fine dining for local V.I.P.s;, sits on the board for the Golf Course Advisory Committee, as well as the Cape Fear Community College Board of Trustees. Kim Hufham, Exec. Director of the Visitor's Bureau, sits on the Sister City Commission. Connie Majure-Rhett, in addition to her new role on the convention center board, is also the CEO of the local Chamber of Commerce, as well as a member of the heavily taxpayer-funded Southeastern Economic Development Commission. John Hinnant, Executive Director of Wilmington Downtown Inc., another heavily taxpayer-subsidized organization, is a member of the Downtown Parking Advisory Committee in addition to his new duties.
One may ask why in the world our elected leaders are so afraid of regular citizens. Could it be that they simply already have a pre-conceived agenda, and therefore need warm bodies friendly to their cause to simply play ball? All signs point to "absolutely".
It looks as if the convention center, and its careful masters, are in no danger of community input regarding its operations after all.
Chamber Awards... Itself
The Star News also reports that the Chamber has just given out its annual Business Achievement Awards (
http://www.starnewsonline.com/article/20101209/ARTICLES/101209640/1177?Title=Chamber-presents-achievement-awards&tc=ar
). Wilmington Mayor Bill Saffo, Bill Sharbaugh of PPD, and Rob Kaiser, Publisher of the Greater Wilmington Business Journal were the recipients. Most notably, these men are all members of the Chamber of Commerce's Board of Directors. So when the Chamber searches for local business leaders to give awards to, it seems to really narrow the field by keeping it strictly within the bounds of its own organization.
Kaiser, in addition to serving on the Chamber, is also a member of Wilmington Industrial Development - yet another heavily taxpayer-funded organization. Saffo was awarded for his work on the convention center - even though his capacity is that of an elected official - not a capital investor, or free market visionary. His ability to spend other people's money well, against their wishes, must have been recognized as the key element in his deserving of the award.
What's the lesson here folks? It seems we have quite a cozy relationship between politicians, committee appointees, and taxpayer-funded organizations. Like any animal, they have learned to rely on each other for their own existence. Like a well-oiled machine, they constantly serve themselves and each other almost simultaneously; operating on the principle of
quid pro quo
;
existing only to validate each other's existence, and to achieve the ultimate goal - gaining more power, influence, and more of your money.
________________________________________________
Please add your name to this petition, demanding that taxpayer-funded economic development agencies submit to accountability and transparency standards, so that we as taxpayers know where our money is going and what we are getting in return:
http://www.ipetitions.com/petition/wilm-transparency/